COVID-19 Notice: Short-term mission trips are currently on hold. We will reassess ongoing as situations change.
Building Community: Short-term Mission Teams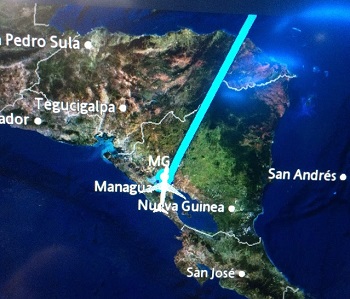 Short-term mission teams come together for a variety of purposes which include, but are not limited to, medical outreach, professional development and training, construction projects, and hosting local youth and children's camps. All short-term team participants are offered an orientation on Nicaragua's history, political climate, cultural values and norms. We also provide the opportunity for those on a team to experience some of what the region has to offer outside of our Skylark Centre base of operations. It is a great way to serve in a global capacity and to learn more about yourself, God's calling in your life, and about the country and people of Nicaragua!
All of these initiatives are the backbone of Threefold's overall Vision of seeing healthy, sustainable communities in Nicaragua. Please consider being a part of the exciting ministries happening through Threefold Ministries' short-term mission teams.
Some helpful information


Christian foundation
Threefold Ministries is faith-based. Everything we do is premised on scripture and done in the name of the Lord Jesus Christ.
'For I was hungry and you gave me something to eat, I was thirsty and you gave me something to drink, I was a stranger and you invited me in, I needed clothes and you clothed me, I was sick and you looked after me, I was in prison and you came to visit me.' Then the righteous will answer him, 'Lord, when did we see you hungry and feed you, or thirsty and give you something to drink? When did we see you a stranger and invite you in, or needing clothes and clothe you? When did we see you sick or in prison and go to visit you?' The King will reply, 'Truly I tell you, whatever you did for one of the least of these brothers and sisters of mine, you did for me.'
Matthew 25: 35-40
Team participants are not required to be followers of Jesus but a morning devotional time is offered for all who wish to attend. It's a wonderful way to begin the day!

Role on the team
There is room for those with a willing heart and an attitude of service! Naturally, the type of team you join will determine the kind of work being done or outreach being provided. However, you do not necessarily have to be a trained professional in order to take part. For example, on a medical team, support workers are required by medical professionals. If you find a team that is of interest we just might be able to find a place for you!


Accommodations
Teams stay at our
Skylark Retreat Centre
located in San Marcos in Carazo province. The centre has many amenities including sporting facilities such as basketball and beach volleyball courts, a swimming pool, soccer field, baseball diamond and running track. Participants are housed in either a dormitory setting or a motel-type bedroom unit, depending on the size and make-up of the team.
Food
All meals are included. The food is a combination of Nicaraguan and North American cuisine. Food allergies or sensitivities can be accommodated. Drinking water is provided and is safe. You may want to bring a reusable water bottle to carry with you throughout your day. If visiting a restaurant with Threefold/Skylark staff, know that we are confident of the quality and safety of the food prepared.
Language
The primary language spoken in Nicaragua is Spanish, however the key staff members located on-site speak fluent English. You will most likely be accompanied by a Canadian Threefold Ministries representative as well for the duration of your trip. When a group is dealing directly with the Nicaraguan people, such as on a dental or medical team, well-trained translators are provided. That said, it would be beneficial to have a few key Spanish phrases close at hand for easy reference!

Safety
Your security is top priority. The Skylark Retreat Centre employs Security personnel around the clock. Visitors are restricted from touring the surrounding community without a Skylark or Threefold representative. Threefold will not allow a team to travel to Nicaragua if dangerous situations develop prior to departure. Team members are encouraged, though, to reference Canadian advisories at
https://travel.gc.ca/destinations/nicaragua
or US advisories at
https://travel.state.gov/content/passports/en/country/nicaragua.html
. While we do our upmost to ensure your safety, volunteers are asked to be diligent and cautious in all activities undertaken. There are hospitals in the country should the unforeseen arise, but they are not of the standards that you would find at home. When outside the walls of the Skylark Centre, remain vigilant. The article found at
http://www.shorttermmissions.com/articles/travel_safety_tips
provides sound advice. Our experienced staff is available from the moment of your arrival at the airport through to the end of your trip and will effectively manage any security concerns that you may have.
Immunizations
Cost of the trip
The cost for a typical mission trip will vary, but will generally cost no more than $2500 per person for a one-week trip and will be established prior to trip planning. The cost can vary according to the type of outreach, the length of the trip and team fundraising. We are a Canadian charity supporting Nicaragua in U.S. funds. As such, variations in the exchange rate will have an impact on trip costing. The all-inclusive trip cost covers flights, ground transportation in Nicaragua, accommodation, meals and a simple sightseeing/experience excursion.
Exploring
Week-long trips often include an optional planned day excursion to a nearby tourist destination which may or may not be incorporated into the cost of the trip. You may wish to extend your stay in Nicaragua for a few days following your mission trip, but this will be at your expense and responsibility. You may wish to bring some spending money for souvenirs. Most places accept US$.
Packing
Most participants are able to pack the majority of their belongings into a carry-on sized suitcase. As Nicaragua is a tropical country, only summer type clothing is required, although we do recommend a light jacket as Skylark is located at a high altitude and the evenings can get a little cool. Dress with respect to the culture – no skimpy bikinis, revealing tops or short shorts. Sandals and running shoes are a good choice for footwear. Bring sunscreen and bug spray. More details will be provided during trip planning.


Practical donations
Aside from items relevant to their particular team, participants will often inquire as to what they can bring/ask family and friends to donate to help with supplies/provisions required to aid in meeting the needs of Nicaraguan families. The "wish list" varies and will be supplied to the team during the planning process as requested. There is no obligation to bring these items.

Daily structure
Everyone rises early in Nicaragua! Typically, the day begins with group devotions followed by breakfast and a quick meeting to give everyone their marching orders. Work begins shortly afterwards. Where medical/dental teams are being held, patients are usually bussed in to attend clinics set up on site. There are instances where the team members travel to other locations to provide service/ministry. Lunch is at noon and we work until the job is done – usually 4:30 or 5 pm. Sometimes there is time for a quick dip in the pool prior to dinner. Following the meal, there is an evening debrief where everyone has the opportunity to reflect on their day. These are often the most rewarding times as we witness how the experience is impacting members of the team. Remember, it is we, the North Americans, who return home changed and influenced by the Nicaraguan experience. In the evening, there is opportunity to hang out together and take advantage of the facilities, play games, or go for ice cream. After a long day, team members often retire early!


Electronics
Yes you may bring your devices as there is wi-fi available. However, we do encourage participants to spend time disconnected from technology in order to enjoy and experience life in this new culture. There may be a minimal fee charged for the provision of this service.


Other advice
BE FLEXIBLE!! The best laid plans sometimes go awry. Everyone is asked to be flexible and supportive of one another.


Do you still have questions? Know that additional information will be made available to team members as part of the preparation for the trip. If you have general questions, please contact us. We'd love for you to join us. Prepare to be changed!