Construction and Maintenance
The Skylark Retreat Centre has been in place for over a decade. God's people dreamed of, and constructed, this little piece of heaven on earth, and His people continue to lovingly care for and maintain it.
Each year, a team of volunteers from Canada travels to Skylark to perform maintenance, make improvements to what already exists, and complete larger-scale projects. Volunteers come from a wide variety of backgrounds and have just as varied skill-sets. Activities range from painting to plumbing, from wiring to welding. They augment the work done by the Skylark staff on-the-ground, bringing a different level of expertise and a general helping hand. A recent project included the construction of perimeter fencing, ensuring the security of the Centre for visitors, staff and community members using the centre for various activities.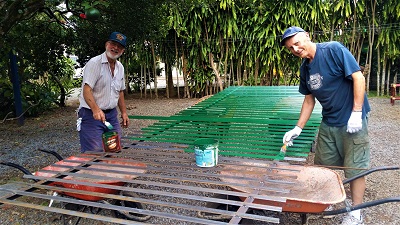 Projects benefitting the community as a whole outside of the Skylark Centre are also often undertaken, such as aiding in the construction of local Christian schools.
The Skylark Retreat Centre is a true gift, and it is our job, and the hard work of our staff and the great volunteers on the Construction team that keep it looking new, and ensure its longevity.
"

THANK YOU ALL for devotions, blessings, laughter, fun, conversations, discussions, sharing, caring and much more.... We were a "dream team"...we made things happen and we did it to improve the lives of those who have little...

"

Contact us for more information or to get involved!