Get Involved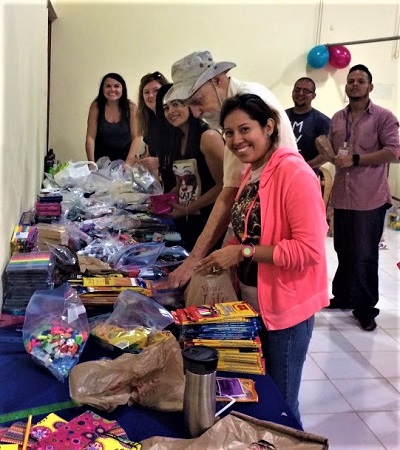 Join a Mission Team
One of Threefold's three guiding principals is building community, by bringing diverse people together in teams to serve the broader communities in Nicaragua. We are always looking for people to join one of our variety of teams. It is a great opportunity to experience Nicaragua and its amazing people from a unique standpoint.
The Calendar of Events lists upcoming, confirmed teams and additional details for each. Contact us if you're interested in participating in or leading a team, whether listed or not, or that you're considering for the future.
We anticipate that you will have a lot of questions, particularly early in the process.
More information

Collect Items for Donation
The programs running at the Skylark Retreat Centre always benefit when items critical to their operation are donated. Ideas include:
Diapers, washcloths and soap for newborns
Toiletries for new mothers
Toys and craft supplies for young children
The complete list can be found
here.
Donations are accepted at our office in Waterloo. If you are not in our vicinity, contact us at
info@threefold-ministries.org
to discuss other options.
Read More
Donate
Not everyone can travel on a team! Financial support is appreciated - and needed! - as well. Prayerfully consider supporting:
a team or individual member in their fundraising efforts
by sponsoring a child attending our "Best Start in Christ" program
an intriguing 'something' from our gift catalogue
a Capital Project being undertaken at the Skylark Centre
the general operations of Threefold overall
Please see our
"Donate"
page for more opportunities, and options in giving. Thank you!!